Bring Me Bliss: All You Need To Know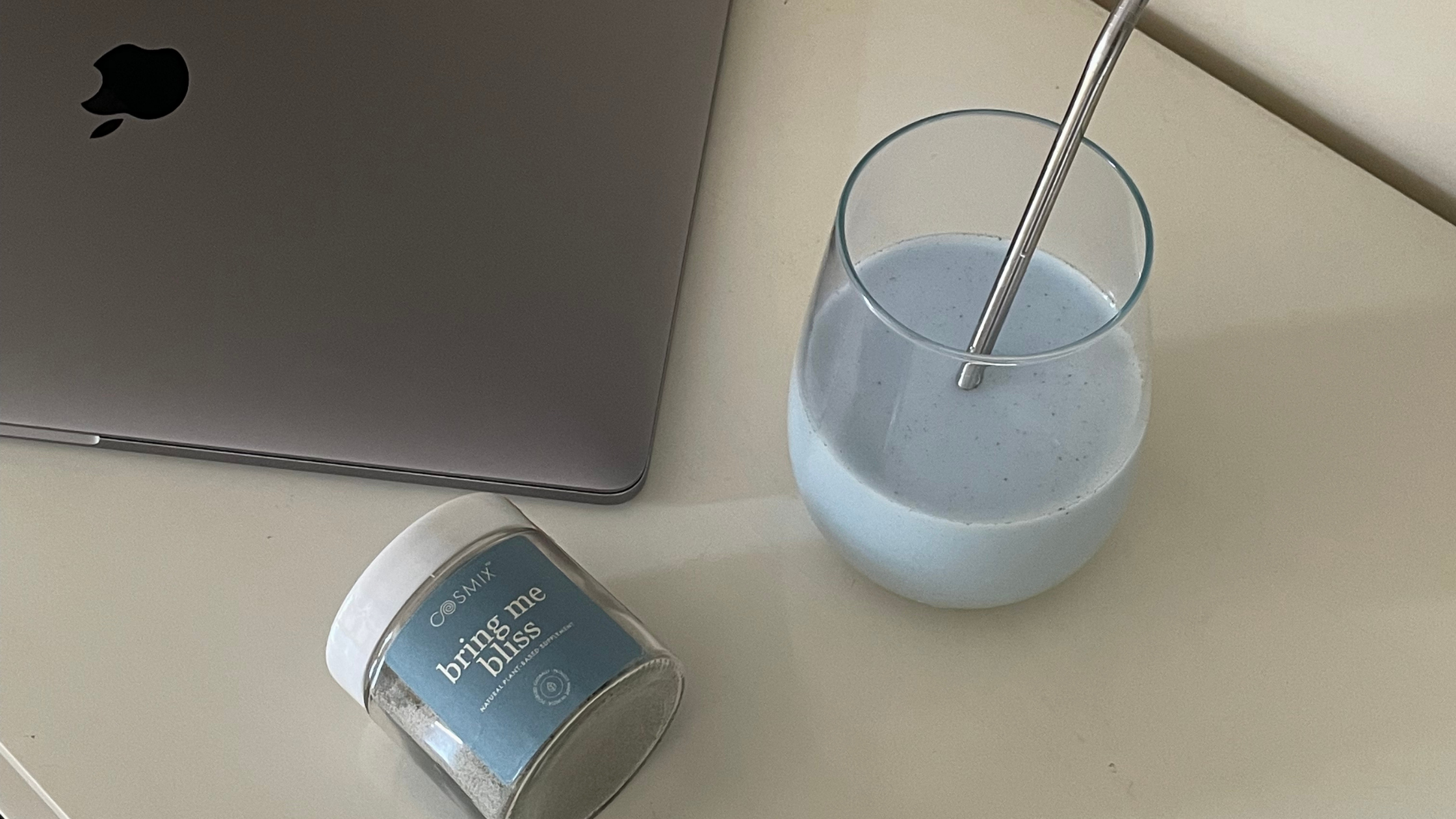 Go ahead and settle in. If you've been stressed, look no further. We've done the work to come up with an adaptogenic blend that can assist you to relax. Bring Me Bliss is the latest addition to our shelves and is made with Blue Spirulina, Ashwagandha, Brahmi and Rhodhiola and delivers on all counts, when it comes to managing stress. 
It is a truly sensorial experience - the blue green and flakey powder dissolves to form a beautiful blue when mixed with water, milk or any other base of your choice. The refreshing peppermint scent and taste can also help you feel a little less stressed, and a little closer to Bliss, from the first sip. 
Keep reading to learn all you need to know about Bring Me Bliss. 

How can Bring Me Bliss help improve stress and reduce anxiety?  
Bring Me Bliss is made with beneficial herbs that are clinically proven to help with managing stress. The main herbs in the mix - Ashwagandha, Rhodiola, Brahmi, Nettle Leaf and Spirulina - work together to address the common goal of reducing stress. They nourish and support the adrenal glands, and help to counter physical and mental exhaustion, all of which contribute to boosting vitality and reducing stress. However, this is not a quick-fix - the blend works best over time, nourishing the body, and gently detoxing it to improve stress and anxiety response.

How does Bring Me Bliss help with improving focus?
While relaxing and reducing stress is important, it is just as important to stay focused on the task at hand. Bring Me Bliss as a calming blend, contains Brahmi which has a well studied history in enhancing cognition, memory and information processing. It has a calming effect on the brain through the GABA and cholinergic systems, making you more focused and capable of reacting efficiently.

What goes into Bring Me Bliss?
Spirulina, Ashwagandha, and everything calming - Bring Me Bliss is formulated with ingredients that can help stressors and can help you to relax.
When we get into specifics of Bring Me Bliss - Nettle Leaf and Blue Spirulina in this mix help to reduce stress by detoxing the body and by stabilizing the nervous system, emotional response and overall body functioning. These ingredients are also rich in nutrients that help to replenish the body and improve focus and energy.

Brahmi and Rhodiola work together to calm the nerves - combating anxiety and mood swings. Brahmi, also works with Ashwagandha in the meantime, to restore balance to the nervous and hormonal systems, for improving focus, clarity and sleep quality.

In this mix, Ashwagandha truly proves why it is such a great adaptogen - adapting to provide what your body needs - energy during the day and a sense of calm at night. When paired with the other herbs, it naturally regulates the body's internal clock, and most importantly to strengthen its stress responses over time.
What does it taste like? What can it be paired with?
While we keep talking about how you need to take Bring Me Bliss consistently to see the results, there is one thing to note. Thanks to the presence of peppermint and spirulina, the experience of drinking this blend is relaxing, even from the first sip. It has been created as a complete sensorial experience - appealing to all your senses.

The blend smells of peppermint, with a hint of vanilla. The blue spirulina makes it a visual treat - flakey and green while dry, but completely dissolving to impart a beautiful pastel blue color. And when you take a sip - you are greeted with a naturally sweet, refreshing peppermint taste with hints of herbs.

Bring me Bliss can be enjoyed in anything from cold water and tender coconut water to oatmeal porridges and smoothies. But thanks to the beautiful blue color, we've seen our community members being pretty creative - even adding Bring Me Bliss to Rasmalais and donuts! 🍩😱

How much Bring Me Bliss should I have in a day?
This adaptogenic blend is rather potent and only ¼ tsp is needed in a single serving. It can be combined with water, milk, or even other juices or smoothies as a base. It works well with coconut milk, and other fruits that would taste good with the peppermint. Just make sure not to have too many servings in the day, even though the blend tastes pretty great.
When should I take Bring Me Bliss?
There is no ideal time to consume this mix, and rather can be had whenever you feel the need for it during your day. 

When will I start to see results from Bring Me Bliss?
When you will start to experience the results from using Bring Me Bliss depends on the duration and intensity of the stress that you're dealing with.

In the short term, the sensorial experience of the blend itself can help you feel a slight sense of calm. This is due to the refreshing smell, color and taste of the blend. But it will take you at least 1-2 weeks to experience the effects of the adaptogens. The blend works best and shows better results when paired with other stress management techniques.
--- 

Now that you know all about the many, many benefits of Bring Me Bliss, we hope that you're convinced to try your hand at managing your everyday stress.

This adaptogenic blend may not be everyone's "one-stop-solution" for beating stress and its effects - but it is one of the many tools that you can use. A dedicated wellness routine, daily movement, and healthy hobbies are some of the other techniques that can help reduce stress and its impact on your physical and mental health. 
If you've got more questions - don't forget to leave a comment or reach out to us on instagram!